Teresa Carvalho (UAVR Portugal) participates in International Webinar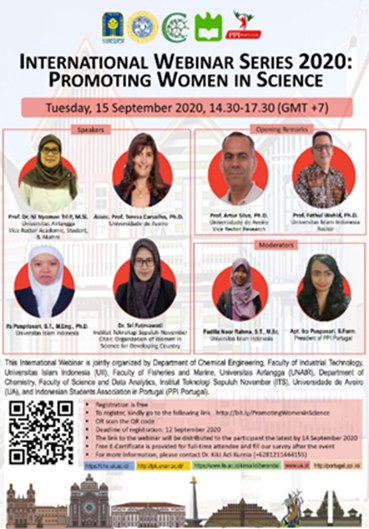 On September 15 Teresa Carvalho, coordinator of the Portuguese CHANGE team project (UAVR, Portugal), participated as an invite speaker at the international webinar "Promoting Women in Science". 
This event was organized by the Department of Chemical Engineering, Universitas Islam Indonesia (UII), Faculty of Fisheries and Marine, Universitas Airlangga (UNAIR), Department of Chemistry, Faculty of Science and Data Analytics, Institut Teknologi Sepuluh Nopember (ITS), University of Aveiro, Portugal (UA) and Indonesian Student Association in Portugal (PPI Portugal). 
About 150 people participated in the online webinar, which also had great coverage and dissemination in local and national media in Indonesia (e.g. https://bernasnews.com/kemampuan-literasi-perempuan-cenderung-lebih-kecil-dibanding-pria/; https://www.jogpaper.net/2020/09/19/ifa-puspasari-ada-kenaikan-perempuan-menggeluti-mata-kuliah-stem/).